Aunt Jemima Doll
Supply List:

* tacky glue
* scissors
* cotton ball
* round toothpicks
* needle/white thread
* 1" X 1/8th" in diameter dowel piece
* 2" stretched out length of black Bunka for hair
* 1/4" wooden bead, any color
* very small paintbrush
* acrylic paint in dark brown, white, red and black
* 3" square piece of red material…can have small pattern in it, but very small (I used a tiny polka -dotted pattern)
* 1/2" square piece or smaller of white material for apron.
* 2-gold 1/16th" jump rings for earrings. Make your own out of gold bead wire, wrapped around a toothpick and cut, if you don't have any jump rings.
Making the Body and Arms…
* Cut red material into one 2" circle.
* Lay the white material piece for the apron right on the edge of any place on the read material. Baste stitch as close to the edge of the circle as you can, including the apron in the basting but stitching smaller through the apron.
* Gather thread to close up circle just enough to add as much cotton ball as you can get it and still close the circle of material so the cotton doesn't show. Stitch it shut.
* Paint the dowel dark brown just an 1/8" on both ends for the hands. Cover the dowel with one thickness of red material and glue.
* Glue the dowel to the very top of the body where it is stitched shut and center it. Let dry.

Making the Head…
* Paint the entire bead dark brown. Let dry. The holes in the bead will be at the top of the head and on the bottom.
* Glue a 2" length of black stretched out Bunka to the top front of the forehead for the hair that will "peek" out from the scarf you will add. If you have enough you can cover the hole in the bead too but it really won't show with the scarf covering it.
* Cut a small triangular piece of the red material for the scarf. All three points of the triangle will be positioned and glue directly on the top of the head and covering some of the Bunka but not covering it all.
* Dip end of toothpick in white paint and dab on eyes carefully. Let dry and then dip a needle or pin in black paint and dab pupils in white area anywhere you like them to be. (Illustration of face shown below.)
* Dab toothpick in red paint and make mouth. I made a heart mouth on mine.
* Add earrings with glue.

Your Aunt Jemima Doll is done!
illustration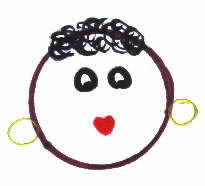 Use your back button to return to Craftroom for additional projects
submitted by rosebuds